Is labor force participation starting to increase?
Is Facebook Reels finally winning back consumers from TikTok?
Did fewer people go skiing due to the mild winter?
Are young women buying more cosmetics online?
Is Crocs selling more shoes online than instore?
What will the next CPI print be?
Will Ford gain share in EVs?
Get answers... Effortlessly
Because, the simplest explanation is usually the correct one.


A research community… For the community!
Real respondents, Robust data... Updated daily.
Personalized engagement and insights
Superior controls lead to accurate insights
Explore: What is on your mind?

Current, Trending
What's top of mind - Inflation, Covid, Ukraine, Oil, Housing, Netflix show?

Market, Industry Research
Insights into competitive dynamics, new product, mind share and market trends

Macroeconomic Outlook
Our large respondent pool and targeted questions provide a unique window into the consumers' mind. Think CPI.

Longitudinal Trends
With 2+ years of data, we provide investors a baseline for consumer attitudes and preferences.

Brand Analysis
Insights into competitive dynamics, new product, mind share and market trends

Demographic Breakdown
Which demographic sub-group or region is responding to trends.
Insights - What you need to know
Engage - The social "flux capacitor"
Community sourced questions – what do your peers want to know?
Your questions answered – Seamless
Consistent methods, proven insights, robust data sciences – Agile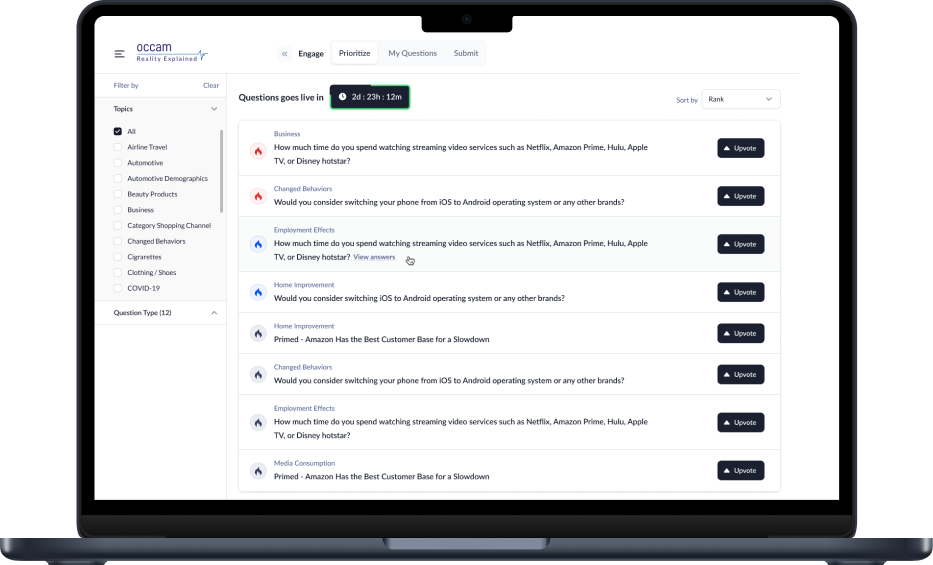 We believe our people are our greatest asset. We are committed to fostering diverse perspectives in a culture of inclusion, respect, and support.